MAZARIN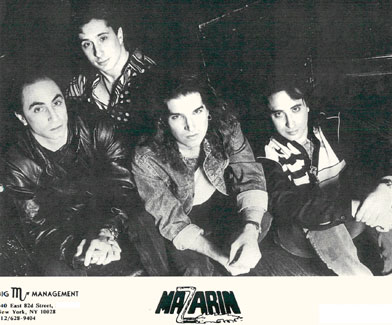 The original band MAZARIN, are often referred to as "Long Island musical legends" & "Those Slaves to Rock and Roll" . MAZARIN & The OK Club continue to entertain & set record attendance levels now, into their third decade!
Brothers, Doug & Marc have been performing as MAZARIN since 1976.
The group has headlined and regularly appeared at major universities & national concert venues such as My Fathers Place , The Ritz & Northstage Theaters.
MAZARIN was a featured act at the1991 South by Southwest Music conference.
Their seven-year run at The Rumrunner of Oyster Bay is unprecedented in the annals of NY Rock history. Recent performances to overflow crowds at The Legendary Memory Motel in Montauk, NY have generated reviews describing the band as "Classic Rock Heaven" .
MAZARIN was awarded "Best Rock Band " by Good Times Music Magazine 1982-1986. MAZARIN has shared the stage with the world's top music acts and has performed thousands of shows in front of hundreds of thousands of loyal fans.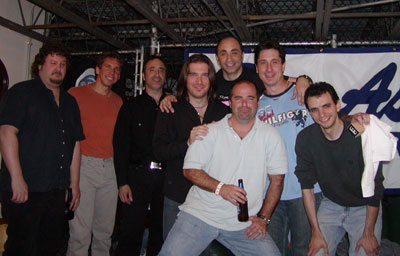 Backstage Mazarin Anniversary 2004 - The Downtown

Recordings such as Slave to Rock and Roll , The Only One , Rockers and I Can't Deny received frequent play list rotation on college and major market rock radio. Slave to Rock and Roll hit number 7 on New York 's WRCN!
The first tour in 1978
MAZARIN recordings were produced by Steely Dan master engineer Roger Nichols , Blue Oyster Cult's Clay Hutchison and Tiki Studio's Grammy nominated Fred Guarino. The band had the distinction of being included on numerous 1980's compilation collections that featured Bon Jovi , Zebra and Twisted Sister . A greatest hits "Studio" collection is currently set for a 2006 release.
With Rob Schneider
Mazarin sharing the bill with Jack Cassidy of The Jefferson Airplane, Starship, Hot Tuna
Current and former members of the OK Club and Mazarin have included:

Marc Mazarin Hochlerin
Tommy Byrnes (Billy Joel, Stray Cats, Joan Jett)
Tony Bruno (Swift Kick, Joan Jett, Enrique Iglesias, Danger, Danger, Saraya)
Gary Saint (Chubby Checker, Tangeir)
John O' Riley (Blue Oyster Cult, Rainbow, Monkees)
Kenny Aronson (Bob Dylan, Rick Derringer, John Eddie)
Tommy Williams (Debbie Gibson, Wonderous Stories)
Louie Appel (Southside Johnny and the Asbury Jukes, Debbie Gibson, John Eddie)
Gary Taylor (Saraya, Tara)
Barry Waller (Lester Bangs Band, Wonderous Stories)
Kirk Powers (Mazarin, Debbie Gibson)
Glenn Mack - Mazarin, The Glenn Mack Band
Elliot Negrin - Mazarin
Steve Stabile - Mazarin
Brian Stabile - Mazarin
Ron Thomas -Percussion
Josh Gordan - Violin
Hugh Carroll - BAC
Timmy O'Connell - Deep River Band
Jimmy Carr - Deep River Band
Sam White - Deep River Band
Jon Loyd - Chris Barron (Spin Doctors)
Ani Azoto - Deep River Band





Dan Lazarus, Roger Nichols and Doug at The Mazarin sessions at Soundworks.

Mazarin Recordings

Slave to Rock and Roll
First Class Records. Producer Clay Hutchison (Blue Oyster Cult). Recorded Kingdom Sound. Guest artist - Ritchie Canata, Saxophone (Billy Joel Band, Beach Boys).

The Only One
First Class Records. Producer Clay Hutchison (Blue Oyster Cult). Recorded Kingdom Sound. Guest artist - Ritchie Canata, Saxophone (Billy Joel Band, Beach Boys).

I Can't Deny
First Class Records. Producer Clay Hutchison (Blue Oyster Cult). Recorded Kingdom Sound.

Rockers
First Class Records. Producer Fred Guarino. Recorded Tiki Studios.

All Alone
First Class Records. Producer Roger Nichols (Steely Dan, John Denver). Recorded Cherokee Studios LA/Soundworks NYC. Guest Artists - Jim Keltner - Drums (Traveling Willberrys, Tom Petty), David Hungate - Bass (Toto).

Weekend Warrior
First Class Records. Producer Roger Nichols (Steely Dan, John Denver). Recorded Cherokee Studios LA/Sound works NYC. Guest Artists - Jim Keltner - Drums (George Harrison, Traveling Willberrys, Tom Petty), David Hungate - Bass (Toto)

Album Compilations

WBAB Best Of Long Island (One)
WBAB Best Of Long Island (Two)
WAPP Best of the Apple (NYC) - Included with BonJovi (Runaway)

Voted New York's Best Rock Band 1982-1986, Good Times Magazine "Goodies awards"
New York's SXSW finalist Austin, Texas 1991 Performed at UT at Austin.



Top