October 2007
Greg "Mazarin" Marchak 1961-2007
"Some people come into our lives and quickly go. Others stay for a while and touch our hearts so deeply that we are never the same"
Greg was our soundman, road manager, producer, friend and brother. He was simply the best engineer we ever worked with and developed the classic Maz sound from the road and into the studio. Greg was with us through over 1500 shows in the 1980's. While we were writing and recording Greg would tell us if something was good or it sucked. He was a great blues guitarist, producer and had been living in Florida the past decade producing records, doing live sound and traveling the world with Jon Oliva and the guys from Savatage.
I had the blessed fortune of working with him twice in the past year. Once in Orlando where he did live sound for a room of 600 audio experts (who never heard anything sound that good) and then reunited with Mazarin for an incredible night of music at The Memory in Montauk in August. A photo tribute (below) to Greg with music recorded with & by him in Montauk a week before he passed.
He loved life, his family, his friends, and his lovers, his music, his politics, traveling and Mr. B his beloved kitty cat. There will never be another.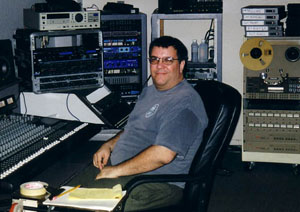 Click the photo above for photo tribute
Rock Me Baby-Recorded with MAZARIN at The Memory Motel August 2007.
Doug Mazarin, Marc Mazarin, Greg Marchak, Ani Azoto, Jim Carr, Tim O'Connell, Elliot Negrin & Sam White.
August 2007
Been a great week. Went swimming with my dog, finished Chuck Berry's autobiography and Crowded House came to town for the first time in 12 years! The Chuck book is a hoot and at the same time very inspiring. I highly recommend it. Run don't walk to get the new Crowded House CD "Time on Earth". Between playing gigs and rehearsals I don't get out seeing many shows but that was one I wasn't going to miss. Attended the show with Tommy Hardart from the "Future Farmers of America". We had fun and headed to the P&G after the show. Doug was always the one who inspired me on going to shows. "Concert Joe" you know? Even when our touring schedule had us out for 200+ shows a year Doug ALWAYS made time for certain bands. If we had a night off you'd find Doug seeing bands he never missed... T he Clash, Squeeze, Springsteen, Prince & Pink Floyd come to mind. If they were in town and we were off that's where you'd find Doug. He turned me on to all of them. "Hey you've got to see this band". That's usually how it went. He reminded me at practice the other night of how we went to see the Police at My Fathers Place, the same way. Very cool.
If you haven't been out to see these shows on this Mazarin tour we'll yeah, you're missing something special. I can say that from my seat on the drums. Every lineup through the years has been special. This is just a very different production with new arrangements of your favorite Mazarin tunes. New tunes and different folks playing & singing on them. Some you know some you don't. Mazarin vet Elliot Negrin on lead guitar, Ani Azoto on bass, Jimmy Carr on slide & lead guitar, Sam White on Sax, Flute, harp and midi mouth-string thing, Timmy (Ricky Ricardo) O'Connell on Percussion, Jon Loyd on Keyboards and Doug and I doing what we do.
The band is lit with a soulful, rockin energy. It's great to see our shows packed and everybody having such a good time. An October 25 th MAZARIN NYC Supper Club date was just announced. Tickets go on sale labor day. Got to get those early. The last few MAZARIN shows there have totally sold out.
Special thanks to our crew Joe, Matt & Billy and to Steve at EVANS DRUMS and the folks at SHURE Microphones, Engineer, Rob Badenoch, Morty at ACE Dup, Vincent at VR Associates, Marantz Professional Products & Hudson Marketing.
We're off to Charleston , SC this week for our show Friday with Hootie & the Blowfish at the stadium. Back in Montauk, NY on Saturday night and may have some special guests. Hope you can make both shows!
Looking forward to producer, Greg (Super G) Marshak joining us on the road and mixing & recording these last two summer shows!
Here's some tribal flavor with myself and Timmy on the percussion and fun photos of the band.
It's a safe to play SWF file. Rock on!
marc maz
July 2007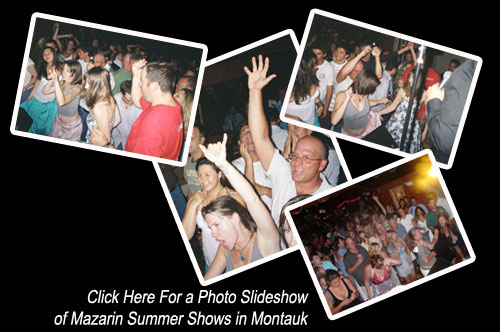 June 2007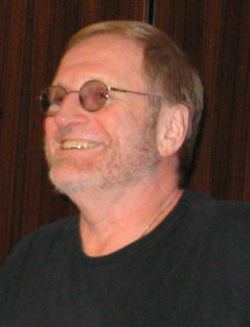 This entry of Drummers Diary is dedicated to the memory of our beloved Rock N Roll friend, the legendary Musician/Producer Hank Medress . Doug and I were fortunate to have Hank brought into our lives by a family friend about five years ago. Hank attended many MAZARIN shows he even got comfy at Hogs N Heifers. We were grateful for his encouragement, guidance and enthusiasm to keep making our music.
We had looked forward to someday getting in the studio with Hank. More than anything we valued his loyal friendship. There was nothing we couldn't ask of him in the way of his experience or providing direction for this on-going musical journey of ours. In the last few years we shared a lot of smiles. It was a good night when Hank was in the audience or came up to us after a show to tell us how much he enjoyed our performances.
From Hank…."Come and do some sessions with me", "I want to get you guys in the studio", "I love those vocals" or "that's the best drum sound you've ever had" simply meant THE WORLD to us.
We Love you, we'll Miss You.
We'll meet again because the Lion does not sleep tonight, The Lion ROARS !
A memorial is being planned. If you'd like to know more about Hank, his music and career click: http://spectropop.com/HankMedress/index.htm
November 2006
Coming home………..
October 27th MAZARIN returned to hometown Port Washington to play the Landmark Theater. The old school building has been transformed into a very decent concert hall. We had a blast with over four hundred MAZ fans & friends joining us.
It was a privilege appearing with our special guest and good friend, the Legendary Gary U.S. Bonds. We've performed with Gary a number of times and each time its just an honor to be able to step on stage with him. Doug & I are great fans of Gary's and it really takes the form of pure Rock N Roll magic for MAZARIN to perform with him.
We ripped into Gary's hits Jole Blon, New Orleans , Quarter to Three and This Little Girl. Gary joined us for Mazarin tunes, Play All Night & Slave to Rock N Roll.
Special shouts to his incredible vocalists Laurie Anderson and Laurie Jr.
If you'd like to see what Gary 's up to check out: garyusbonds.com
The night also included sets from The Drunk Unkles (my blooze & booze project) drunkunkles.com and our good friends The Deep River Band and also the local LI band Steel Rebellion.
Lots of people to thank: Rob Badenoch on sound, Billy Robinson – Lighting director, Tony "Rooster" Genovese – GMS Drums, Steve Lobmeier –Evans/D'darrio, The crew from Hudson Marketing, Richard Branciforte – Good Times Music Magazine, The Landmark Theater Staff & Crew, BIG TOM & his security team, our Box-Office people, Tom "Morty" Mortensen –Video, Rebecca & Claudia, Steve & Geraldine Greeny, Sam White, The Carr's (what an after-party!) The staff from the Juvenile Diabetes Awareness Foundation, Robert E and Pirate Booty, Anton Publications, Louis Harvey "Dad" Hochlerin, Tommy Williams, Scott Duryea, William & Elliot Hurwitz, The Drunk Unkles, The Deep River Band, Steel Rebellion, Scott form Minuteman Press, Q104 FM & LA Photography.
February and May 2006
MAZARIN at the Concerts for NYC Public Schools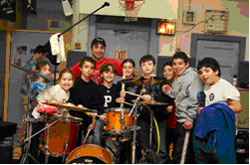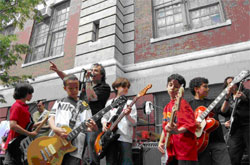 Click The Photos for the Smile Slide Show
Mazarin performed concerts (indoors & out) to benefit after school programs for NYC's public schools. These annual events, "The All in the Family Show" and the "Fest with Zest" are simply the greatest smile we receive. We introduce our tunes to audiences young and old and then we jam with the talented, rockin kids. A number of the students are from Doug's Rock Guitar Training Classes. For info dougmazarin@aol.com
Next show for NYC Public Schools takes place:
Sunday February 11th, 2007,
1pm at PS 290 corner 82nd & 2nd.Ave.
Don't miss it. Tickets at the door.
Photo credits: Cheryl Fleming, A great friend of Mazarin, check out Cheryl's entire portfolio of work @ cherphotos.com got a special event or corporate photo shoot? give Cheryl a shot. Other photo credits: Lori Hochlerin & Marc Mazarin.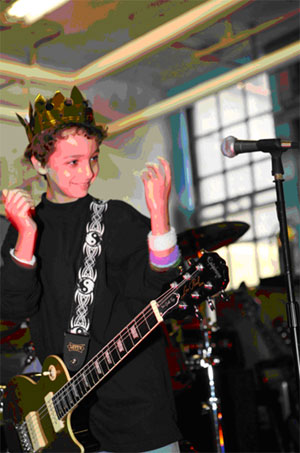 Smile (Live) by Doug Mazarin, (Copyright), All rights reserved.
December 2005
MAZARIN & The OK Club. 2005 our busiest schedule of shows in years! Thank you!
The Rockers Roll!!! Special thanks to The NYPD & Margaret Hans @ Met Life!!!! You got us back on the road!!!!
The NYC CORENET party at CODA, The shows at Sgt Peppers, Tin Lizzie, The Fest with Zest, The MNS 2005 Winter Concert, Montauk & The Memory Motel, The Volberg's 2005!
By the end of the year we had performed for thousands of people and are even more charged for 2006!
Thanks to:
Our friends at Q104 FM Cope – Gerry –Bob! Steve at EVANS, Rob, Rooster & Tony at GMS Drums, MNS PS 290, Scotty, Eddie and all the rest of the Burnbaums, Brother Mike, Pat, Tom Hardardt, Tommy Williams, Tommy San Filippo, Pat At PROMARK, DW, Louie Appel, JW, Miguel, Matt, Fejzi, The Drunk Unks, Richie @ Good Times Magazine, HOHW Band, The Vagrants, Felix Robinson, Harvey "Dad" Hochlerin, Mom & Peter, Casey, Artie, Yo-Yo, Morty Mazarin and everyone at ACE Duplication, Big Tom and all our families and friends.
Summer/Fall 2004
"Scenes from the music party". Here are some pics from the great spots we played and the crazy people that kept us going. Highlights include, The Memory Motel, The crest bar in Woodstock NY, The ultimate MAZARIN-Volberg family bash in Farmingdale and Rachel's party in Lloyd's Neck. Guests included….Tony, Adam, Elliot, Louie, Sam, Staci, Rachel, Benny, Pat and some of Tony's Bleecker Street All-Star's! We will never forget the special night at the Memory last September and the non-stop call for the complete MAZARIN Catalogue till 4am!
Spring 2004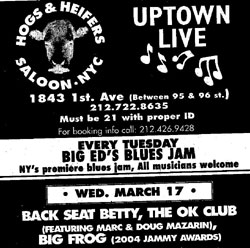 The OK Club at Hog's N' Heifers for St Patty's day. The Mazarin 25th Anniversary show at The Downtown & the 82nd St. Fest with Zest!

Sam H and his east side crew, Thanks to "Virgin" roadie Justin Eagle (that's a great name!), His dad & Hank, The infamous bartop dancers at Hog's N' Heifers, Big Frog, Steve Bernstein, Louie Appel, Tommy Byrnes, The entire Drunk Unkles "Blooze Band", Milo, Lee, Steve from EVANS, The Rooster, The Long Island Drum Center, The Square Feet Band, Steve loungo, Greg "the loser" Marchak, Fred Guarino, Elliot Negrin, Miguel, The crew from ACE, Bobby S, Wayne, The Staff at The Downtown, Good Times Magazine, Q-104, Joe Morris, Mark S & Mark S! Chip, Joel "You've got more hair then us" Frixx, MORTAY, The Singer, Laura, Sharon, Stacy, Karen, the girls from the Bronx and all of those special people that know what to do and when to do it! Here's to Spring!

Feb, 2004


PS 290 Super Gig! The OK Club had the privilege of playing a concert-fundraiser for NYC Public School 290. We shared the bill with a great blues Dobro player Hugh Pool. The pictures tell the whole story. It was one of the best things we've ever done. We loved it, the kids loved and the production staff from the school was the best ever!
Our December gig at Hogs was in the first major snowstorm of the year. Thanks to all our friends who made it down and hung out ALL-NIGHT!!!

The night featured our good friend Benny on guitar it also marked the second performance of The Drunk Unkles Band (that's the way it's spelled). The Unkles band that night featured Unks, Felix, Steve, Mike ?The Pie?, Louie and ?Bottom John! If Doug had the OK Club as a side project then I guess the Unkles would be considered mine. Oh My!!!!! We also welcomed Backseat Betty, don't get carried away it's the name of a band! Backseat will be joining us on St. Patty's Day at Hog's along with Big Frog, the hottest Jam band in Japan!
The Drunk Unkles will be with us on April 30th!

The other photos are more from Hogs & Heifers and a stage raid at New World with Marc, Tony and Ric Orlando joining Justin Love's band "Loveland" in Woodstock. These guys are great check them out!
Oct, 2003
This entry is dedicated to the memory of Bill Bennett the founder of
The Off Wall Street Jam . (Click for Bill's NY Times memorial)
Bill was a True Rocker , Let the Rocker's Roll!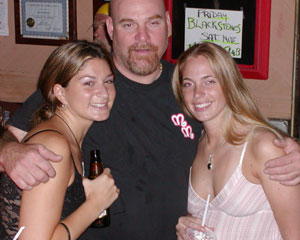 Montauk, Woodstock , NYC, White Castle 's! The finish of a great summer turned into a great fall. One photo is worth? We'll I've got a bunch of them. I remember my first gig with Doug's offshoot, The OK Club. We were at the Memory Motel and it was Mets-Yanks on the tele. The band had to well, wanted to wait until the game was over. When the extra inning game finally ended after midnight the place got packed and we played till 4am .
We've played over forty shows since that night in October. No , it's not going to be 150-200 shows a year anymore (quality not quantity) besides there's not enough Advil for the kid. Each one of these shows means so much to us. I used to think it was the guitar players that made me work so hard but it's the bass players also. Occasionally, Scott can't make a gig so Pat and Tommy San Filippo make sure to kick my ASS. These last few months have been super. Standing room only and lines out the door, just like being at Rumrunners or The Ritz in '85. I think I may have to bring out the big drums as we move to a full MAZARIN schedule this spring. We've got great gigs lined up for the rest of the year starting with two important fundraisers
MAZARIN will make a short-set appearance on Thursday, Nov 20 th at the Supper Club in NYC. This is a very special fundraiser for the family of Cliff Govier who was lost tragically this past August. He was a friend to many in the Pro-Sound-AV industry. We'll be getting together with some very special Music folks to raise $$$ and spirits for Cliff. It's an early show and the music starts at 7. Be there!
The next night Friday, Nov 21 st the OK Club Band is performing at New World Home Cooking in Woodstock . This is also an early show that will start at 9pm . The band is lending rocking to raise $$$ for the UCSPCA . That's the Ulster County Society for the Prevention of Cruelty to Animals. This is a Rock N' Roll dance party for our furry friends of Ulster County . We're bringing our own animal bass-player with us that night, Pat from The Joshua Tree Band!
Friday, Dec 5 th , we return to Hogs & Heifers Uptown Saloon, NYC for our last show of 2003 . OK Club mayhem and dance madness!
Special Thanks, since the last update to: TSF, SD, Louie, Tommy Byrnes & The MOVIN' OUT Band, Keith Hurd, Albert, Marc "The Cope" Coppola, Tommy Williams, Pat Rotolo, Greg Smith, Boo Reiners, Elliot Hurwitz, Square Feeet Band, ZK, Milo, Chris at NW, Artie, GMS Drums-Rob & Rooster, Steve at Evans, Rich at Sam Ash-NYC Drums, DC & ACE Duplication & Editing Group-NYC, Miguel "Road Mangler" Ortiz, Vin and John at VR, The Oyster Pond, All our friends and family, Jimmy T, Mark S and MORTAY!

Week of July 8, 2003

Now where was I???? Actually where am I?

Playing' gigs and having a great time. Through the years Doug and I did many recordings. We worked with many talented people in the best studios but for us it was really always about the live shows. Nothing's changed. It's still about the live shows. Besides there really isn't much time to lock us up in the studio all day and night trying to get it right. Sooooooooo...
As we used to say in Mazarin "Live music is better". (Still got the shirt, JW?).

We've just finished a spring run of shows and are about to begin another one. For us playing on is the opportunity to perform music we love for music fans new and old. Continued to be surrounded by some of the best players on the planet takes it to a place that it really can't get any better.

The last few dates were very special and raised the bar up a bit. Tony Bruno joined up with the band and kicked my ass! Tony's currently recording & producing but on a short tour break from his gig as musical director with Enrique Iglesias.
For those who are not familiar with OK Club-MAZARIN history. Tony and I first met up in 1977 when I auditioned for his band Swift Kick. Although I was playing in Mazarin at the time I was looking to "expand" my musical horizons (at least until Doug graduated High School) and I went to an audition with Tony's band. Well, the playing was fine but as for me being in their band it wasn't going to happen (Tony tells me now I definitely was not wearing the "right clothes or shoes"). They were into KISS and Queen and I came there ready to play Skynyrd and the Dead. What was cool was that Swift Kick and Mazarin went on to become a couple of the most successful club acts in the 1980?s. Through line-up changes in our bands we got to know each other and play together more. As time went on our paths started to come together at places like the Rock N' Roll Caf? in NYC where Tony became a Tony "Mazarin". Tony has kept real busy recording and touring with Saraya, Joan Jett, Nina and Enrique's band.

The most recent show at the Memory was something very special in that it was Tony's first time back there with Doug playing together. I never got to perform with that version of the band at the Memory (my mid nineties sabbatical). As the night took flight I saw what I'd missed back then. The two of them were the founding members of the OK Club Band in the mid-nineties and it was a blast to play with them there (sorry I missed Fire Island). Our own Tom San Filippo totally blew us away filling in on the Bass for Rock Star Scott (on teenage basketball tour). Artie played great too! We really love playing in Montauk, the people, the food and the vibe in general. It's Kind of like Woodstock with a beach.


Click the pics to enlarge!







It was off to Hogs & Heifers Saloon Uptown, NYC the next week. Hog's is always great and on this night we shared the bill with our friends from the band Tiberius. I sat in with them and played a few songs when their drummer failed to show due to oversleeping? It was a great opportunity to lock in with Bass player Marty who would be playing with the OK Club the next week in Woodstock. Milo did his magic on the monitors and we went on at 12:45 am.
(Man this guy EQ's a monitor even deaf brother Doug could hear himself!)
Musically, the band never played better or felt as free form... sometimes we don't roll tape on the right night.

Special shouts
To Marty for getting on with the club and making the trip. To TB, KB and the Woodstock/NYC/Montauk crew. To Jerry Marotta and Uncle Funk for a great night of music and having me sit in. To the Woodstock Barbecue crowd.
Elliot and the No Mersey Band and especially Louie Appel who drove three hours just to take Doug and I to the diner in Saugerties.

Looking forward to our summer dates at the Memory and our Special Anniversary show at New World on August 22nd.



Week of February 7, 2003


It was great seeing so many friends old and new who came down to Odyssey in Amityville. We had a great time at this club and look forward to going back.

It was a thrill to play a show with the legendary Vagrants. These guys sounded fresh like they?ve been playing together all along as if they?ve never taken any break.

BIG shouts to... Jimmy from Odyssey, All the people from ACE AV, Tom Licamelli from The Knockout Drops (LOVE that band). Peter and all The New Vagrants. Joey the drummer is a monster! Special thanks to Tommy who worked his butt off playing with both bands and helped put the whole thing together.

Some of the Mazarin alum on hand included The Saintster! Gary Saint, Mazarin lighting designer Steven? Cobra? Greany, Mazarin road manager John Karlquist, Mazarin crew chief Nicky ?C?, Mazarin drum tech extrodinare Tony ?The Rooster? Genovese, Steve L from Evans and... Mr. Louie Appel.

See ya at Hogs!!!!


Click the pics to enlarge and read a caption!







Week of October 14, 2002

This is how Doug and I stay sharp during the "Baby Break" with the OK Club: at Ultrasound studios NYC 10/10/02 in NYC with members of the "Emspak Blues Band." Thanks for inviting us to sit in and break a sweat.

Mike 'Philly Pie Fender" Phillips on guitar, Pete "Brooklyn Bassman" Christensen on bass, Steve "Bluesman" Emspak on Guitar, Marc Maz on Drums, vocals & "whining," and Doug Maz on Guitar, Vocals and "Olde English 800."


Click the pics to enlarge and read a caption!





Week of October 6, 2002

Hi everyone, The band is on a baby watch. Our newest member of The OK Club family has decided on top billing this week. He or she was supposed to be an "opening act" but instead will be the "Headliner." The folks at New World in Woodstock have graciously rescheduled our Friday, Oct 11th date to Friday, December 6th which we are now in the process of confirming.

We're all waiting for the good news on the little one and we'll let you know as soon as wedo.

Big Thanks to everyone who turned out at Hog N' Heifers Sept 25th. No one was disappointed in the activities of the evening............... OH MY!

We are really looking forward to going back and will have the new dates very soon. Special shout-outs go to the crews from Woodstock, NY, The NYFD, NYC's Broadway community and the Fabulous "Keithettes", Cool Lawyers and record producers who can sing, Academy Award Winning Movie Directors, Schemata salesman, Fire Island Crew, Jo, Pam & The Fashion Crew straight from the show!, Old friends, New Friends, VGF's,?amily, Beady, Peter from the Vagrants, Soundman Bill, The MBN, Ralph from AVS, TickingTV writers, Our special musical Guest Bob Lowery (don't forget his CD Yellow Light), Cool Mommies, Sony Music Lady!, THE TREMENDOUS WORK of our Road Crew (Miguel & Xavier) and everyone from ACE audiovisual. Special Thanks to Tony "Fabs" from the Long Island Drum Center for life saving Snare drum work!

Truly special shouts to Earl, Jennifer, Carlos and Bruce at Hogs!!!!!!!! They made us feel right at home!!!!!!!! We can't wait to go back. This place has all the vibe of The Rock N' Roll Cafe, Rumrunners and Wooden Ships thrown inand a definite off-season NYC home for our Memory Motel Maniacs. Imagine the Memory and Hogs mating and morphing????????????????? As Doug said from the stage "I Love this Place!"

Doug, Tommy and I were fortunate enough to attend the Jammy Awards show at Roseland this week. What a show and special shouts to the folks at Relix Magazine for inviting The OK Club as their guests for this truly magical experience. There will be a DVD-CD released from the show soon so stay tuned.


Week of August 28, 2002

What more can be said about our best Memory Motel show of the year. The best because you made it so! No question the Montauk vibe helps but you were the crew that kept us going till 3:40am. A full house of dancing lunatics and plenty of sweat shared by all. Special shout out's to... ... ... JW who flew cross-country to make the show (does it make you feel good?) and to Keith "Our Hero" Hurd and the Luscious, bodacious "Keithettes" on vocals & theatrical direction!

See you in September!


Click the pics to enlarge and read a caption!





Week of August 12, 2002

The band wishes to thank EVERYONE who turned out for our August date at New World in Woodstock, New York.

We were overwhelmed with the energy and excitement you guys brought to the show. It was a fantastic evening and we all look forward to going back this fall. Special thanks to Christine & Kelly and the entire staff at New World and to the talented guests who graced our stage. Former OK Club-Mazarin brother Tony Bruno from Enrique Iglesias' band, Molly who sang like an angel and The Doctor, George Deleon "The Mojo Man" on sax. We will be confirming an October '02 date shortly. We had a blast there and loved seeing old friends, making new ones and eating Catfish! Chills playing The Weight in Woodstock... home of our heroes The Band!

Speaking of blasts, our last one of the summer is here this week. Saturday Aug 17th at the Memory. Everybody rest up now you're going to need it. We're expecting a VERY packed house. It's been a great spring-summer run. After this we'll be resting, nesting, rehearsing (heaven forbid) and recording. First shows back will be toward the end of September probably starting at Hogs in NYC.


Click the pics to enlarge and read a caption!





Week of July 24, 2002

In Montauk it's all about the music and the food. Great meals at The Harvest and Oyster Pond. Special shout out to the staff at Oyster Pond who came down to the show. Again it was Salivars at five am and Anthony's for a special breakfast at 1pm.

Tuesday night-Jones Beach Blondie & The B52's. Sara Lee Kicks Ass! A bunch of thanks to Chris and Matt from Blondie, Joey from JFA, Matt from the B52's, Rob from GMS, "Magic" Steve from Evans-D'Addario, Bruce L and Ron "My Man" Delsner and Louie Appel for life's guidance and lower east side pizza.

Packed house of Montauk crazies! Doug interviewed by the East Hampton Star. A beautiful beach. Tommy SF burning the stage and Scott is now the official Rock Star of the band!

See ya in Woodstock!


Click the pics to enlarge and read a caption!
Page 2 >>
Top